Masayasu Toyomoto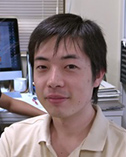 Present Position
Program-Specific Assistant Professor
Degree
Ph.D.
Education
April 1995 – March 1999 Kanazawa University (bachelor's)
April 1999 – March 2001 Tokyo University of Agriculture and Technology (master's)
April 2001 – March 2003 The University of Tokyo (master's)
April 2005 – March 2010 Tokyo Medical and Dental University (doctoral)
Professional
Experience
April 2004 – March 2007 RIKEN Yokohama Campus
Research Assistant
April 2007 – March 2010 PHARMAEIGHT Co., Ltd.
Researcher
April 2010 – June 2012 Graduate School of Pharmaceutical Sciences, Kyoto University
Program-Specific Researcher
July 2012 – March 2016 Graduate School of Medicine, Kyoto University
Program-Specific Researcher
April 2016 – present Graduate School of Medicine, Kyoto University
Program-Specific Assistant Professor
Research
Interests
Chemical biology
Immunology
System biology
Structural biology
Drug development
Memberships
Honors
February 2008 The Japanese Society of Clinical Immunology Midwinter Seminar 2008
Outstanding Young Award
Selected
publications

Necrostatin-7 suppresses RANK-NFATc1 signaling and attenuates macrophage to osteoclast differentiation.
Fuji H, Ohmae S, Noma N, Takeiri M, Yasutomi H, Izumi K, Ito M, Toyomoto M, Iwaki S, Takemoto K, Seo S, Taura K, Hida S, Aoyama M, Ishihama Y, Hagiwara M, Takeda N, Hatano E, Iwaisako K, Uemoto S, Asagiri M. Biochem Biophys Res Commun. 2018;503(2):544-549.
Development of an orally available inhibitor of CLK1 for skipping a mutated dystrophin exon in Duchenne muscular dystrophy
Sako Y, Ninomiya K, Okuno Y, Toyomoto M, Nishida A, Koike Y, Ohe K, Kii I, Yoshida S, Hashimoto N, Hosoya T, Matsuo M, and Hagiwara M Sci Rep. 2017;7:46126.
Actin-binding protein coronin 1A controls osteoclastic bone resorption by regulating lysosomal secretion of cathepsin K.
Ohmae S, Noma N, Toyomoto M, Shinohara M, Takeiri M, Fuji H, Takemoto K, Iwaisako K, Fujita T, Takeda N, Kawatani M, Aoyama M, Hagiwara M, Ishihama Y, and Asagiri M Sci Rep. 2017;7:41710.
Alleviation of behavioral hypersensitivity in mouse models of inflammatory pain with two structurally different casein kinase 1 (CK1) inhibitors.
Kurihara T, Sakurai E, Toyomoto M, Kii I, Kawamoto D, Asada T, Tanabe T, Yoshimura M, Hagiwara M, Miyata A. Mol Pain. 2014;10:17.
Anti-arthritic effect of E3 ubiquitin ligase, c-MIR, expression in the joints.
Toyomoto M, Ishido S, Miyasaka N, Sugimoto H, Kohsaka H. Int Immunol. 2011;23(3):177-183.
Intervention of an inflammation amplifier, triggering receptor expressed on myeloid cells 1, for treatment of autoimmune arthritis.
Murakami Y, Akahoshi T, Aoki N, Toyomoto M, Miyasaka N, Kohsaka H. Arthritis Rheum. 2009;60(6):1615-1623.