Tomonari Awaya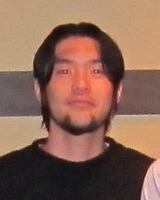 Present Position
Assistant professor
Degree
M.D., Ph.D.
Education
April 1997 – March 2003: Kyoto University, School of Medicine, Kyoto, Japan
April 2007 – April 2010: Department of Pediatrics, Kyoto University Graduate School of Medicine, Kyoto, Japan
Professional
Experience
April 2003 – March 2005: Resident (Pediatrics), Nagoya City University Hospital, Aichi, Japan
April 2005 – March 2007: Staff physician (Pediatrics), Kyoto University Hospital, Kyoto, Japan
May 2007 – March 2009: Research Assistant, Japan Children's Study Group, Japan Science and Technology Agency, Japan
Feb 2009 – April 2010: Research Assistant, Institute for Integrated Cell-Material Sciences (iCeMS), Kyoto University, Kyoto, Japan
May 2010 – June 2016: Assistant Professor (Pediatrics), Kyoto University Graduate School of Medicine, Kyoto, Japan
July 2016 – present: Assistant Professor (Anatomy and Developmental Biology/Drug Discovery Department for Skin and Brain Disorders), Kyoto University Graduate School of Medicine, Kyoto, Japan
Qualification
May 2003: Full Medical License (Ministry of Health, Labour, and Welfare, Japan)
Oct 2010: Board-certified Pediatrician (The Japan Pediatric Society)
Oct 2012: Board-certified Child Neurologist (The Japanese Society of Child Neurology)
Nov 2012: Certified Expert Clinical Geneticist (The Japan Society of Human Genetics)
Research
Interests

Disease modeling of genetic disorders and congenital disorders using iPSC
Child physical development and its relation to cognition and behavior
Pathophysiolosy underlying acquired cognitive dysfunction
Clinical
Interests

Diagnosis and management of genetic disorders and congenital disorders
Clinical management of neuromuscular disorders
Developmental disorders and pshychological problems
Memberships

Member of International Society for Stem Cell Research
Member of Society for Neuroscience
Member of World Muscle Society
Member of The American Society of Human Genetics
Member of International Child Neurology Association
Member of Asia-Oceanian Child Neurology Association
Member of Infantile Seizure Society
Member of The Japan Pediatric Society
Council member of The Japanese Society of Child Neurology
Board member of The Annual Zao Conference on Pediatric Neurology
Member of Japanese Society for Inherited Metabolic Diseases
Board member of Japanese Society of Pompe Disease
Member of The Japan Society of Human Genetics
Member of The Japanese Society of Inflammation and Regeneration
Selected
publications

Yoshida T, Awaya T, Jonouchi T, Kimura R, Kimura S, Era T, Heike T, Sakurai H. A Skeletal Muscle Model of Infantile-onset Pompe Disease with Patient-specific iPS Cells. Sci Rep. 2017 Oct 18;7(1):13473. doi: 10.1038/s41598-017-14063-y. PMID: 29044175; PMCID: PMC5647434.
Nakano-Kobayashi A, Awaya T, Kii I, Sumida Y, Okuno Y, Yoshida S, Sumida T, Inoue H, Hosoya T, Hagiwara M. Prenatal neurogenesis induction therapy normalizes brain structure and function in Down syndrome mice. Proc Natl Acad Sci U S A. 2017 Sep 19;114(38):10268-10273. doi: 10.1073/pnas.1704143114. Epub 2017 Sep 5. PMID: 28874550; PMCID: PMC5617268.
Knaus A*, Awaya T*, Helbig I, Afawi Z, Pendziwiat M, Abu-Rachma J, Thompson MD, Cole DE, Skinner S, Annese F, Canham N, Schweiger MR, Robinson PN, Mundlos S, Kinoshita T, Munnich A, Murakami Y, Horn D, Krawitz PM. Rare Noncoding Mutations Extend the Mutational Spectrum in the PGAP3 Subtype of Hyperphosphatasia with Mental Retardation Syndrome. Hum Mutat. 2016 Aug;37(8):737-44. doi: 10.1002/humu.23006. Epub 2016 May 19. PMID: 27120253; PMCID: PMC5084765. (*co-first authors)
Munteanu I, Ramachandran N, Ruggieri A, Awaya T, Nishino I, Minassian BA. Congenital autophagic vacuolar myopathy is allelic to X-linked myopathy with excessive autophagy. Neurology. 2015 Apr 21;84(16):1714-6. doi: 10.1212/WNL.0000000000001499. Epub 2015 Mar 27. PMID: 25817839; PMCID: PMC4409585.
Oda H, Nakagawa K, Abe J, Awaya T, Funabiki M, Hijikata A, Nishikomori R, Funatsuka M, Ohshima Y, Sugawara Y, Yasumi T, Kato H, Shirai T, Ohara O, Fujita T, Heike T. Aicardi-Goutières syndrome is caused by IFIH1 mutations. Am J Hum Genet. 2014 Jul 3;95(1):121-5. doi: 10.1016/j.ajhg.2014.06.007. PMID: 24995871; PMCID: PMC4085581.